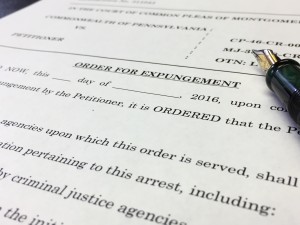 On February 16, 2016, Pennsylvania Governor Tom Wolfe signed into law Senate Bill No. 166 which permits the expungement of certain misdemeanor offenses. The new legislation restores opportunities for gainful employment, education, and housing for those with minor criminal records who have served their sentence and been crime free for a period of ten (10) years.
Under prior law, a person with a criminal record for a misdemeanor conviction could generally only clear their criminal record through a governor's pardon which is notoriously difficult to obtain.  Practically speaking, a misdemeanor or felony conviction could not be expunged, but for several exceptions. The first exception permits the expungement of misdemeanor offenses for persons of  70 years of age or older and who have remained free of arrest and prosecution for ten years after completing their sentence. The second exception permits expungement of a criminal record of a person that has been dead for three years. For obvious reasons, these exceptions do not apply to the majority of people who need an expungement for employment purposes.
Pennsylvania Expungement of Misdemeanors Under New Law
Senate Bill No. 166 amends Section 9121 of the Pennsylvania Crimes Code to allow persons convicted of nonviolent second and third degree misdemeanors and ungraded offenses which carry a maximum penalty of less than two years incarceration, to have their criminal record sealed from the public. In order to be eligible for expungement, the person must have satisfied their penalty in full and remained crime free for a period of ten (10) years since conviction or release from incarceration or probation/parole supervision.
There are however limitations which prohibit the expungement of certain offenses, notwithstanding their classification as second or third degree misdemeanors. For example, a person convicted of Simple Assault graded as a misdemeanor of the second degree cannot have their record sealed. The law also prohibits expungement for repeat offenders who have four (4) or more offenses punishable by imprisonment of one or more years.
Records which have been sealed are only sealed from disclosure to the public – not law enforcement. This means that members of the public such as potential employers, educational facilities and landlords will not be able to see a record of the misdemeanor conviction, but law enforcement officers can. Overall, the new legislation opens a world of opportunity for those who would have otherwise been forever burdened by a mistake made many years ago.
Eligible for Expungement of Misdemeanors in Pennsylvania if:
Convicted of a misdemeanor of second or third degree, or ungraded offense which carries a maximum penalty of not more than two years imprisonment; and
Free of arrest or prosecution for ten (10) years following conviction or final release from confinement of supervision, whichever is later; and
Convicted of fewer than four (4) criminal offenses punishable by one or more years imprisonment; and
Not convicted of a prohibited offense, including: Simple Assault (unless it is graded as a misdemeanor of the third degree); Sexual Intercourse with an Animal; Impersonating a Public Servant; Intimidation of Witness or Victims; Retaliation Against a Witness,Victim or Party; Intimidation, Retaliation or Obstruction in Child Abuse Cases; and any sexual offense which requires registration as a sexual offender.
Contact a Pennsylvania Criminal Defense Lawyer Today to Clear Your Record
A Pennsylvania criminal defense attorney can help you clear your criminal record. At McMahon, McMahon & Lentz, we are criminal defense lawyers that regularly assist clients in obtaining expungements in  Montgomery County, Chester County, Philadelphia County, Berks County, and surrounding areas. If you are interested in clearing your criminal record, please contact our office today to schedule a free consultation.